Condominium Sizes – Clearing Up the Confusion
By Amanda McKellar | December 02, 2015
The issue of misrepresentation of registered condominium size is the gift that keeps on giving as we head into the holiday season.
RECA wants to take this opportunity to clear up some confusion about what's actually occurring and what its role is in these situations.
RECA has been dealing with this issue for approximately the past 18 months, and it seems to be unique to the Edmonton area. We have received information about more than 1,000 units listed on Edmonton's MLS® system with incorrect registered condominium plan sizes. RECA's Professional Standards Unit has closed more than 275 of those files; some real estate professionals have received fines—Administrative Penalties—as a result while the vast majority of others have received Letters of Reprimand. The type of sanction that results in these cases is based on the individual merits of each file and a review of aggravating and mitigating factors.
When we do an investigation into these situations, we find a number of possibilities. In some cases, the real estate professional has made a mistake with no element of malice. One example of this would be a real estate professional who accidentally transposes numbers in the listing, i.e. lists the unit as 87.2 m2 instead of 82.7 m2.
In some cases, we find the real estate professional has taken the size information from a previous listing for the unit. And then, in other cases, at the other end of the spectrum, are those real estate professionals who simply ignore the requirement to use the registered plan size. Their reasons for doing this are varied, but some believe the registered condominium plan size is not an accurate reflection of the size of the unit in question and so they list the unit using a different size, which may or may not be living space or measured space.
The registered size of a condominium can include balconies, storage areas, and parking stalls, and is determined at the discretion of the condominium developer using one of various measurement standards. This is not "living space" or "above grade square footage" or "paint to paint measurement", or any number of other terms used to describe the size of a residential condominium. There is only one "registered plan size" for every condominium unit and there is only one source for that information – the actual condominium plan.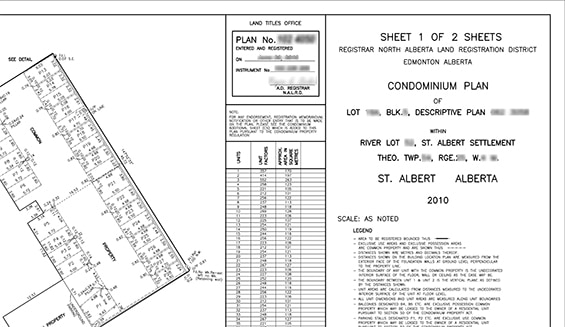 Some Edmonton real estate professionals have told us they don't feel consumers are best served by providing only the registered size of a condominium. While RECA doesn't necessarily disagree with them, the fact is, all advertising has to be accurate. When size is given a label, such as registered size, it must reflect the accurate information.
If a listing has a field that requires a real estate professional to input the registered size of a unit, there is only one number that can be put in there: the registered size found on the condominium plan. Any other number there is a misrepresentation. RECA has no role in the design or set-up of listing databases.
We think it's also important to know it's not Edmonton-area buyers who are complaining about this issue. As indicated in this week's Edmonton Journal article, a single Edmonton individual is providing RECA with information about the misrepresentations. That being said, if RECA receives a complaint from a buyer about misrepresentation—it will carry out the same investigation process as it does for all complaints and inform the buyer of the outcome of our investigation.
Sellers' real estate representatives have a huge role in ensuring accurate representation and accurate inputting of listing info, but buyers and their representatives need to do their own due diligence too. Buyers must understand different measurements and measurement standards. Buyer representatives have an obligation to help their clients, and truly understand and satisfy the buyer's needs.