Preying on the Desperate – Debt Rescue Fraud
By Amanda McKellar | March 07, 2016
Consumers facing foreclosure will look for any help they can get. So when they come across an online classified ad for someone who specializes in foreclosure rescue, who says they can stop the foreclosure and keep you in your home, it sounds good—but is it too good? Unfortunately, it usually is. This is a debt rescue fraud, where instead of being rescued, consumers end up further in debt and homeless.
Who is involved?
fraud mastermind
consumer whose property is in foreclosure or nearly in foreclosure
lender
Who profits?
fraud mastermind gets cash and the property title
Who is the victim?
seller loses their home and the rent payments they pay the fraudster
lender receives no payments
How does it work?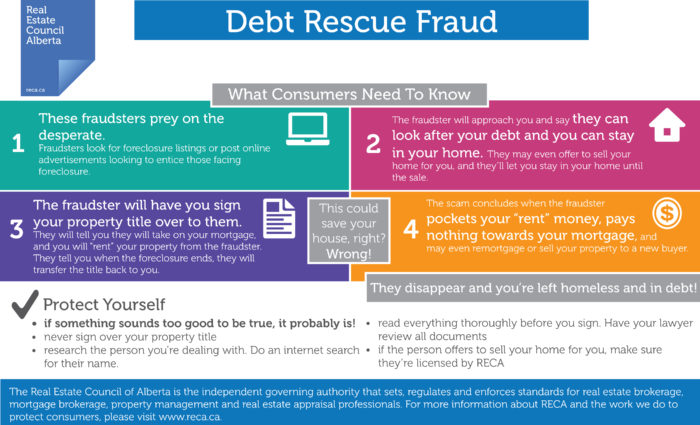 This fraud thrives in economic downturns when more and more people become worried about losing their house or not being able to pay the bills. Alberta's past prosperity has kept this fraud out of the limelight, but in the current uncertain economic times, we could see a jump in cases. Consumers should be aware and do their research.
RECA issued Consumer Alerts about specific fraudsters in 2014 and 2015.