Renewal Tips and Tricks for Brokers
By Amanda McKellar | August 27, 2015
Managing renewals for your brokerage is easier than ever in the myRECA system. Here are some tools to help you get the most from the new system during renewals.
View Renewal Reports for your Brokerage
You can see which of your industry professionals have renewed and who has not by performing a simple search on your My People page in your My Brokerage tab. This can come in handy when the renewal deadline approaches.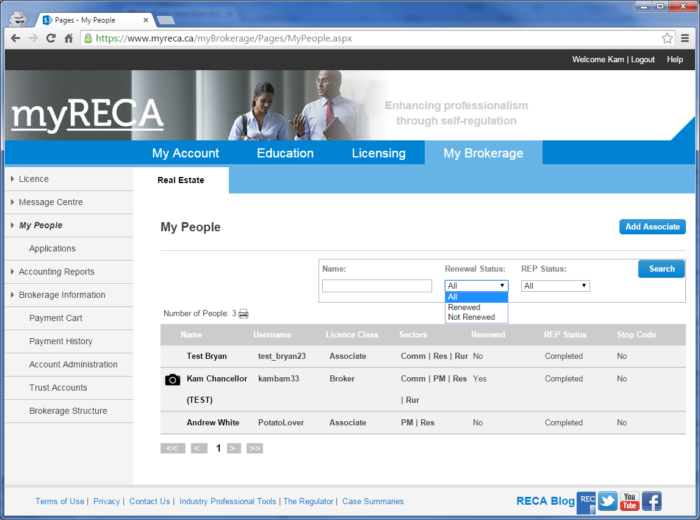 Search by renewal status, by Re-Licensing Education Program (REP) status or both. You can print a PDF report of your list by clicking the printer icon at the top of the chart.
Find renewal applications waiting for your review
Renewals are now initiated by your industry professionals and are entirely online, so you'll need to know when they've submitted one for your review.
You'll get an email anytime one of your industry professionals submits a renewal application, but if you'd like to do a few in one go, you can periodically check the Applications section in the My Brokerage tab.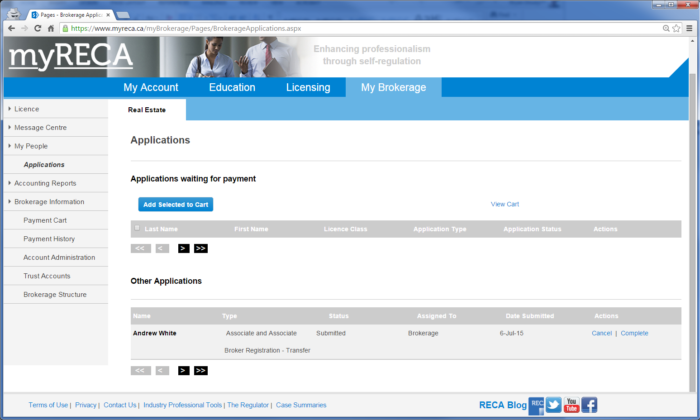 Applications waiting for your review appear in the Other Applications table. Click Complete to review an application. There can be many waiting for your review at once.
Make Bulk Renewal Payments
In previous years, you had to pay for every renewal application separately, which could be a tedious process if you have numerous industry professionals. But on the new system, you have the option to add reviewed applications to your Bulk Payment List. To do this, click the button on the Payment Invoice at the end of the application.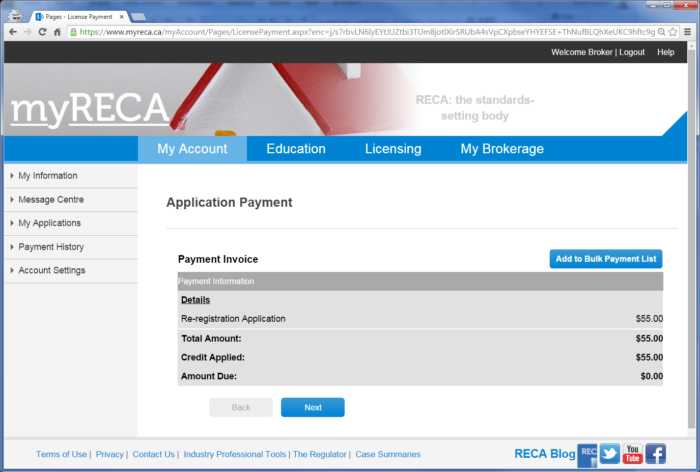 Add as many applications as you want to your bulk payment list. To view applications sitting in your Bulk Payment list, go to Applications.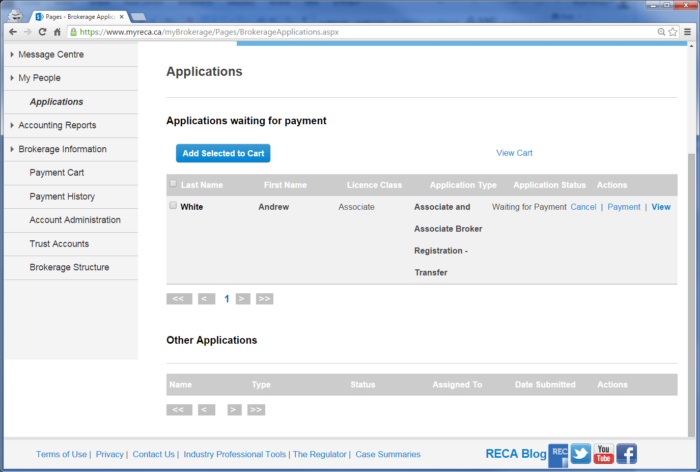 Applications waiting for payment appear in the top chart. Pay for a single application by clicking the Payment link on the right, or add multiple applications to your bulk Payment Cart by selecting the boxes next to the applications and clicking the Add Selected to Cart button.
When you're ready to make a bulk payment, click on Payment Cart. Click Make Payment to finish the process.
More than one-third of brokerages have already renewed. Thanks to everyone who is taking advantage of the simple, paperless, online renewal process this year. Let's keep it going!
View the complete list of tutorials on the renewal process.