2013 AMBA Conference and Tradeshow Live Blog!
By Esther Gutman | September 12, 2013
Good morning everyone. Many Council Members and RECA senior staff members are currently attending the 2013 AMBA Conference and Tradeshow in Edmonton. We'll be updating you with highlights throughout the day!
---
3:16 Charles with Rayline, from Mortgage Alliance – The Place to Mortgage. She's a first year mortgage brokerage professional.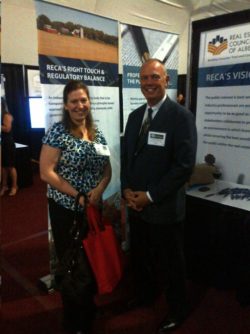 2:54 RECA's Charles Stevenson (left) and Mike Cameron (right),  locked in discussion at RECA's booth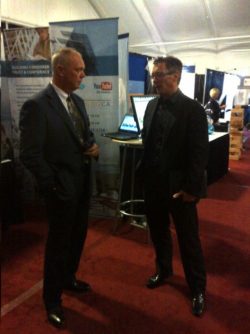 2:06 The fraud prevention panel is ongoing. The trade show will get underway again from 2:30-4:30. Stop by RECA's booth #33.
1:45 David is now sharing some tips for early detection of a false mortgage application;
Commute to work. Is the new property's distance reasonable?
Is down payment reasonable based on income?
Is income consistent with job type snd tenure?
Does the Date of hire fall on a weekend or holiday?
1:30 We're back in business here. Up now is David Papp, talking about fraud, privacy and other legal issues. Some important security tips from David;
Encrypt your internet traffic. Ensure address has https:// in front.
Disable website tracking. Disable JavaScript in your browser.
Search anonymously. Use safe search engines. Google tracks all of our searches.
Never trust anyone with your confidential data. Huge risks with cloud storage. Encrypt files before storing online.
Use traffic tunnels, proxy servers and Virtual Private Network connections will encrypt your online activity.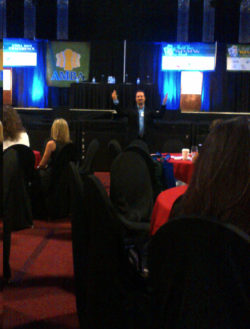 11:52 Pat Kelly being announced as the new mortgage rep on Council starting Nov. 1 replacing Gary Siegle the outgoing rep. Gary is currently giving the RECA update to the delegates.
11:38 Gord Appel is introduced as AMBA's new President, replacing outgoing President Ron McClenagha.
11:00 Lunch time here. The AMBA annual general meeting is next on tap.
10:30 a.m. The technology panel discussion has kicked off. Some of the topics discussed thus far; social media, forthcoming anti-spam legislation, and the simplicity and valuable nature of data analysis.
10 a.m. RECA Deputy Executive Director Kirk Bacon (left) and RECA Director of Professional Standards Charles Stevenson at the RECA booth.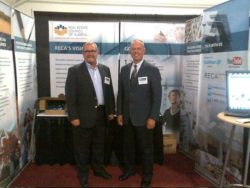 9:50 a.m.  Technology Panel Discussion featuring Michael Rogers, Ryan Spence, Mike Cameron @axiommike, David Papp and Rachel St. John will begin shortly.
More Michael Rogers Comments:
"People will question their commute and the best way to work thanks to technology."
"Social networks are still in early days. Just marketing devices right now. Will become way to organize information in the future."
"Privacy and security will continute to be a challenge. Western democracies have been slow to regulate this."
9:45 a.m. RECA Council members Gary Siegle (Mortgage Broker Council Member) and Kevin Clark (Chair Elect of Council) watching Michael Rogers speak.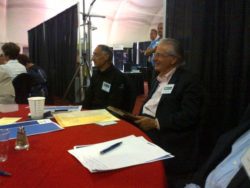 9:30 a.m.  Thanks to the sponsors for making the event possible.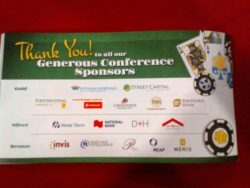 9:20 a.m. Michael Rogers takes the stage for Up the ante…tomorrows tech tools for today's business.
Some paraphrased remarks:
"How do you move into the future? You need to make sure you're going in approximately the right direction."
"Virtualization of relationships will become even more prevalent in the futre."
"60 hours of video uploaded to YouTube every 30 seconds."
"We are going to be connected to the virutal world 24 hours a day."
"By 2020 things like Google Glass will be commonplace."
"The cloud will give us smarter software for business in 2020."
"Digital standards are needed. Every industry is creating its own digital language."
9:15 a.m. AMBA Vice President Gord Appel announces $1,800 donation to the Stollery Children's Hospital in Edmonton. The winner of last night's charity poker tournament added his winnings to the donation!
9 a.m. Speakers about to get underway. More than 300 delegates in attendance!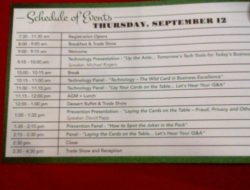 8 a.m. Tradeshow floor is open! And breakfast has begun. Opening remarks to begin at 9 a.m. followed by Michael Rogers and his technology talk: "Up the ante…tomorrows tech tools for today's business."