What's Next for Newly Licensed Condominium Managers
By Amanda McKellar | February 24, 2022
by Doug Dixon, RECA Regulatory Compliance Advisor, Real Estate Brokers
First off, congratulations to the newly licensed Condominium Managers who became licensed by RECA as a result of the changes to the Real Estate Act that created the regulatory framework of the condominium management industry.
As we navigate these first few months of regulation, RECA will keep licensees informed and up-to-date on the next steps in the licensing process to ensure sufficient time to complete the required education components before the deadline of November 30, 2022.
Courses Now Available Through Third-Party Providers
RECA is pleased to announce that all three condominium management licensing courses are now available through recognized third-party course providers. The accompanying exams are also now available.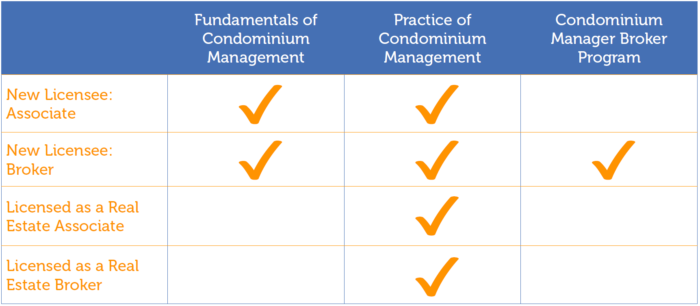 Choosing a Course Provider
RECA advises licensees to carefully consider choosing a course provider by determining your learning preferences and researching course providers that are well matched to your needs. It is important to choose a course provider that will prepare you to successfully complete the licensing exam. The exam is specifically designed to test whether learners have developed the competencies required to provide competent service and to protect the public.
RECA has created a Choosing a Course Provider document to aid licensees when making their choice. We encourage you to review it carefully.
Licensees are also encouraged to check the RECA website periodically to review the course offerings as additional course providers become recognized.
Conditionally licensed condominium managers should complete the exam(s)/course(s) that have been listed on their conditional licence. To learn which courses and exams are required based on your circumstances, please visit RECA's Pre-Licensing Education webpage.
Exams
RECA is also pleased to announce the availability of the exams for the Fundamentals of Condominium Management, the Practice of Condominium Management, and the Condominium Management Broker Program courses.
Once licensees take a course through a recognized provider, they will receive an email with instructions on how to book an exam upon course completion.
RECA strongly encourages individuals complete the course(s) prior to taking the exam(s). However, RECA will allow licensees with at least 75 days experience in the last five years to challenge the exam(s). Some of the exam questions will relate to regulation and RECA's legislation, topics which those who have never been licensed before may not be familiar with. Licensees are advised to consider their personal experience and knowledge before choosing to challenge the exam(s).
If you choose to challenge the exams you will only be permitted one challenge attempt. If not successful, challengers will need to enrol in the necessary courses. Those who want to challenge the exam, should please contact education@reca.ca.
RECA deems successful completion of the education requirement as a grade of at least 70% on the course exams.
Exams fees are $235, and all exams are to be written at a physical location and booked through Yardstick. More information on booking will be sent via email when you complete courses or request to challenge the exams.
RECA is currently in the process of creating practice exams. As soon as these are available, stakeholders will be notified.
Timing is Important
Whether conditional licensees choose to complete the course requirements or challenge exams, it is strongly recommended to start the process as soon as possible. The completion of each course can take a substantial amount of time. Choosing to challenge the exam should also not be left to the last minute, as should you be unsuccessful in the exam challenge, you may not have enough time to complete the course before being able to take the exam again.
Licensed Property Manager Does Not Equal Licensed Condominium Manager

Condominium management is a separate activity and a separate industry from property management. If individuals and companies would like to practice both condominium management and property management, they should do so under separate brokerages. A condominium management brokerage licence is required to offer condominium manager services, and a real estate brokerage licence is required to offer property management services.

Should a company wish to offer both services, they will need two brokerage licenses, however, each brokerage can operate under the same corporation.

It is also very important that corporations offering multiple services ensure that their trust accounts for their condominium management services are separated from their property management or real estate brokerage trust accounts. Should a brokerage have many trust accounts in their myRECA account that need to be moved from the property management brokerage to the condominium management brokerage, RECA can assist with this. Each license will require separate Fiscal Year End reporting for any fiscal year ending December 1, 2022, or later. For more information on reporting Condominium Management Fiscal Year End, please visit reca.ca.

If you have any questions or require assistance with this process, please email audit@reca.ca for assistance or more information.